COMPANY NEWS
Certiphi Screening achieves newest ISO 9001:2015 quality management system certification
Certiphi Screening is proud to announce our ISO 9001 standard certification renewal from ISO 9001:2008 to the newly revised standard, ISO 9001:2015.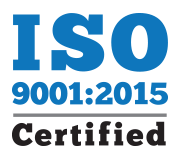 ISO 9001 is the world's most widely recognized quality management standard and helps organizations to meet the expectations and needs of their customers. As part of the ISO 9001:2015 certification process, Certiphi Screening engaged in a rigorous audit of our business processes as well as our product quality environments.
As a previously ISO 9001:2008-certified organization, we have successfully completed the transition to the 2015 revision nearly two full years before the deadline to do so and became one of less than 5,000 companies to achieve the certification thus far.
By achieving this level of certification we continue to demonstrate our ability and desire to effectively and efficiently provide a quality management system while continuously improving our products and services as well as our internal processes.
What Our Clients Are Saying
Everyone I have contacted at Certiphi has been a complete pleasure to work with. The Certiphi customer service rivals every other customer service I come in contact with. Everyone is always so professional, yet super nice! Thanks for all you do and keep up the amazing work and impeccable service that you provide!!!
Thank you so much! You have such an incredible reputation within our office; I think we would all say your customer service levels are continually at about 125%!
The response time has been very quick. The turnaround times are great. I love your systems and that I can go in and look at the process as its going.
It's such a great customer service that you provide and I'm happy to tell that to anyone.
Working with Certiphi has been such a pleasure. Certiphi has taught me so much, not just about backgrounds but also the meaning of great business.
We flew through our NCQA licensure review. We very much appreciate Certiphi's help in earning a 100% score for the files!