INDUSTRY NEWS
USCIS Issuing Form I-797C to Extend EADs for Certain Afghan Parolees
New document combination adds yet another unlisted document combination employers are responsible for knowing under penalty of fines and sanctions.
Certiphi has recently been informed that USCIS is now issuing Forms I-797C to Afghan nationals whose parole status - and EAD - is about to expire. This document, which is part of a larger "re-parole" process that allows certain Afghan nationals to remain in the United States past the "Admit Until" date on the Form I-94, will read:
Notice Type: Additional Action
Class: C11
Valid Until: MM/DD/YYYY.
See below for an example of this Form I-797C: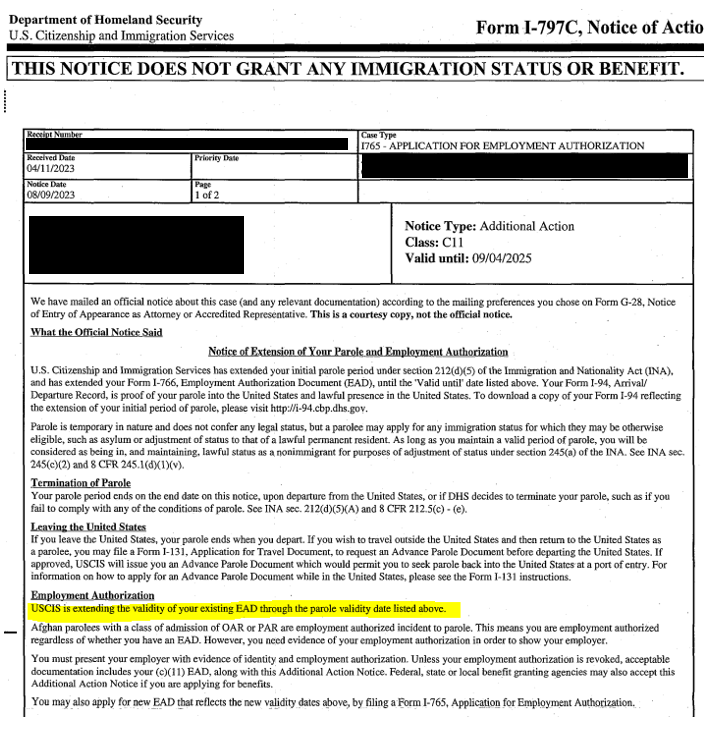 An individual seeking to extend the validity of their Employment Authorization Document (EAD or Form I-766) must present the EAD and this Form I-797C together, and persons completing Form I-9 must examine both. The "Valid Until" date listed on Form I-797C will become the EAD's new expiration date.
Certain Afghan and Ukrainian nationals are work authorized incident to their status in the country and may use Form I-94 to evince work authorization for an initial ninety-day period. For more, click here.
For more information about the re-parole process for certain Afghan nationals, click here.
Posted: August 24, 2023
---
All Rights Reserved © 2023 Certiphi Screening, Inc.
This document and/or presentation is provided as a service to our customers. Its contents are designed solely for informational purposes, and should not be inferred or understood as legal advice or binding case law, nor shared with any third parties. Persons in need of legal assistance should seek the advice of competent legal counsel. Although care has been taken in preparation of these materials, we cannot guarantee the accuracy, currency or completeness of the information contained within it. Anyone using this information does so at his or her own risk.
What Our Clients Are Saying
Everyone I have contacted at Certiphi has been a complete pleasure to work with. The Certiphi customer service rivals every other customer service I come in contact with. Everyone is always so professional, yet super nice! Thanks for all you do and keep up the amazing work and impeccable service that you provide!!!
Thank you so much! You have such an incredible reputation within our office; I think we would all say your customer service levels are continually at about 125%!
The response time has been very quick. The turnaround times are great. I love your systems and that I can go in and look at the process as its going.
It's such a great customer service that you provide and I'm happy to tell that to anyone.
Working with Certiphi has been such a pleasure. Certiphi has taught me so much, not just about backgrounds but also the meaning of great business.
We flew through our NCQA licensure review. We very much appreciate Certiphi's help in earning a 100% score for the files!